BIOGRAPHY


Currently Susan is a partner in one of Southern Alberta's leading design firms, december2nd inc. Her career began in 1989 with the publication of her first illustration for Cycle World magazine in the U.S. Since then she has been commissioned to undertake illustration projects for as diverse clients as the United States Army Corps of Engineers who manage Fort Peck lake in Montana (project:fish identification and interpretive signage) to REDI Enterprises in Medicine Hat (project: mural and ad campaign for Community Employment Services)

Susan's range of style enables her to work with designers to produce "on demand" commercial illustration for a wide variety of projects, ranging from editorial and product illustration, to construction site plans, maps, and technical drawings.

When not involved in commercial projects Susan pursues her passion for illustration exploring new styles, media, and techniques, sometimes working in physical media, but often these days in digital formats. She is currently working on a group of pieces she hopes to exhibit and a project for submition to Communication Arts magazine.
SELECTED CLIENTS
Charles M Russell National Wildlife Refuge
december2nd inc
Defence Research Development Canada
EnSource
IXL-Brick
Judith River Dinosaur Institute
Medicine Hat Clay Industries National Historic District
Medicine Hat College
Montana Power
REDI Enterprises
Stream Media
Travel Montana
US Army Corps of Engineers
WeddingStar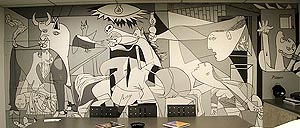 Guernica homage
9ft x 21ft mural, offices of december2nd